Facebook Live Series: How to Transform Your Company Into a Leading Purposeful Brand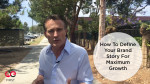 Reading Time: 1 minutes
This month, We First Inc. Founder and CEO, Simon Mainwaring launched a special Facebook Live Series on How to Transform Your Company Into a Leading Purposeful Brand. We wanted to make sure everyone was able to access these live streams which ran each Friday for the past three weeks where Simon shared insights into how to best leverage your brand by leading with purpose.
When it comes to leading and driving the conversation around your brand, leading with purpose and creating passion your consumers can relate to, this is where to tune in! Over the past few months, we've been holding regularly scheduled live streams with Simon Mainwaring, covering everything from how to use purpose to drive growth, to turning your employees into passionate storytellers.
Check out our Facebook Live series using the links below!
February 24: Purposeful Brand Pivots That Drove Business Success >>
March 3: Brand Stories That Deliver a Competitive Advantage >>
March 10: Community Building That Accelerates Consumer Engagement >>
Next Up: YouTube Live on 3/29 at 10am PT
We hope you will join us for this next special YouTube Live stream. Be sure to subscribe to our YouTube Channel for immediate updates and reminders about our next scheduled stream!
The post Facebook Live Series: How to Transform Your Company Into a Leading Purposeful Brand appeared first on SIMON MAINWARING.
Source:: Simon Mainwaring – We First