Is Your Brand Making Maximizing Interest From Potential Customers?
By Megan Totka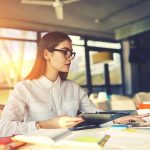 In a digitally-charged world, the sales and marketing funnel is more important than ever. Engaging customers long before a sale, and even longer after it, are keys to building brand confidence and growing your revenue.
At each of the four stages of a sales funnel your goal is to be front of mind, engage, provide value, and move the customer to the next stage. Email marketing is still the most effective way to engage with a targeted audience in each stage of a sales funnel.
Discovery
People cannot buy from you if they've never heard of you. Do you have a presence in all the places potential customers may try to find you? Trying to get exposure is more than just a "spray and pray" approach. You want to be found in the right places with the right message and branding.
This step in the sales funnel relies on consumer research and action to find you. Perhaps they clicked a sponsored Facebook post of yours, or visited your website after a Google search. Now what? When they arrive, what will they learn about your brand? How can you ensure they want to engage and take the next step?
No matter what channel you use to gain exposure for your company, building an email list is vital to showing value and moving prospect through your sales funnel. Once your prospects see you as a thought leader and opted into your email list to receive more great content, it's time to activate an automated email marketing strategy.
At the top of the funnel your emails should be focused on providing value in different ways with the goal being to find out what type of content, or product/service, each prospect is interested in. This is where personalized customer journeys come into play. Email marketing software allows you to create "if this then that" scenarios so as prospects engage with each email you can move them through the customer journey towards an ultimate conversion point.
Be seen as a thought leader. Show that you are an expert in your field by posting articles, how-to videos, advice and more. Make it about helping the consumer–not immediately trying to get him or her to purchase something.
Provide value. Beyond positioning yourself as a thought leader across your different digital channels, you should be driving people to opt-in to your email list to get content they can't find elsewhere. This could be e-Book, whitepapers, or in-depth how-tos. This type of content is reserved for those who want to opt-in to your email list, which is how you start potential customers at the top of your sales funnel.
Consideration
This is an often overlooked step in the process but it's the most important. Most prospects will do considerable research before purchasing. This can include researching competitors, reading reviews, and asking for current customer testimonials. It's up to you to address customer rebuttals through your content strategy. You can use your different digital channels to promote FAQs, blog content, testimonials, and other content assets that address Go to the full article.
Source:: Business2Community