Storytelling on Facebook Live, Images that Get More Clicks and More: The Social Scoop 3/28/17
By Mari Smith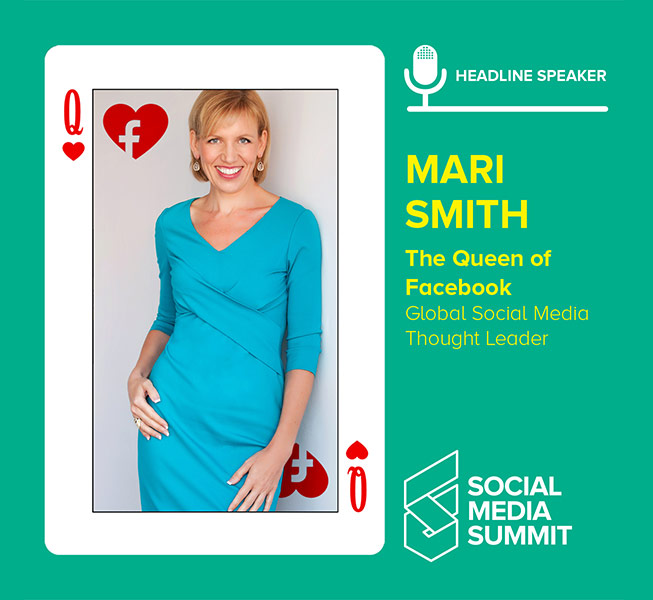 What a whirlwind ride it's been lately. Last week, I lead a packed session on Facebook Marketing ROI at the Social Media Marketing World 2017 conference, with 3,000 attendees from all corners of the globe.
Check out the #SMMW17 tweets & this great summary post of my session by Ashley Zeckman on TopRankBlog: The Queen of Facebook Tells All on Generating Facebook Marketing ROI. I especially loved this write up by Cameron Conaway on Klipfolio, too: Day 2 at Social Media Marketing World 2017: Social media takes teamwork.
What a delight to see from social media marketing & analytics company Plumlytics that yours truly was the #1 tweeted influencer at #SMMW17!
Also, OMG! I just got named by IBM as one of 7 Women Shaping Digital Marketing, alongside Susan Wojcicki, CEO of YouTube; Alison J Herzog, Director global social business strategy at Dell; Alex Hisaka, Head of global content marketing at LinkedIn to name a few. Wow, truly honored!!
6 Social Media/Facebook Resources From Mari Smith
I put together a special page with six different resources specifically for #SMMW17 attendees and would love to share that with you as well. Take a peek at: http://www.marismith.com/smmw17/ where you'll find details of my current Facebook and social media trainings and how my team and I could work with you. We'd love to help!
Facebook Live Tools & Demos
Immediately following Social Media Marketing World, I lead my own half-day Facebook event for 40 fabulous attendees. Here is a fun Live video from the event – be sure to take a look at all the amazing recommended video and live broadcasting tools mentioned in the video description.
See also this exciting new SQUARE video format available from Animoto!

The Mari Method: How To Maximize Facebook Reach & ROI
I recently published an article on Social Media Examiner with my step-by-step process for increasing both organic and paid reach on Facebook. I call it my 'Mari Method' and my team and I created this short companion video to help you!
This Week's Top 3 Articles
1. The Art of Storytelling on Facebook Live via medium.com/@arielviera
Recorded video can be edited, you can add a soundtrack, and use a number of other tools to tell an interesting story. While live video is different, and we can't use the same techniques, there are lots of ways to convey emotion and tell a great story. For example, simple details such as camera placement and the use of motion can make an impact.
2. How to Design Facebook Images That Get More Clicks via Venngage.com

To compete successfully for News Feed attention, visuals for Facebook Ads have to be stellar. Color, font, image, all play a part in wether your ad gets clicks or not. This in-depth post explains the results of testing 35 ads and it has lots of great tips and useful information.

3. 5 Steps to Designing the Perfect Email Go to the full article.
Source:: Mari Smith Blog